The blogs I follow has evolved quite a bit over the years. When blogging first became popular, it was right around the time I was getting married so naturally I loved all things wedding and wedding planning. Then, I became fascinated with design blogs, cooking, baking, decor, DIY, house hunting, and now I'm currently obsessed with blogs that focus on child-rearing, sleep training, and nursery design. Go figure!
Along the way, I've kept up with some pretty incredible bloggers who are just so real and witty and stylish and fun. Here are some of my all-time favorites: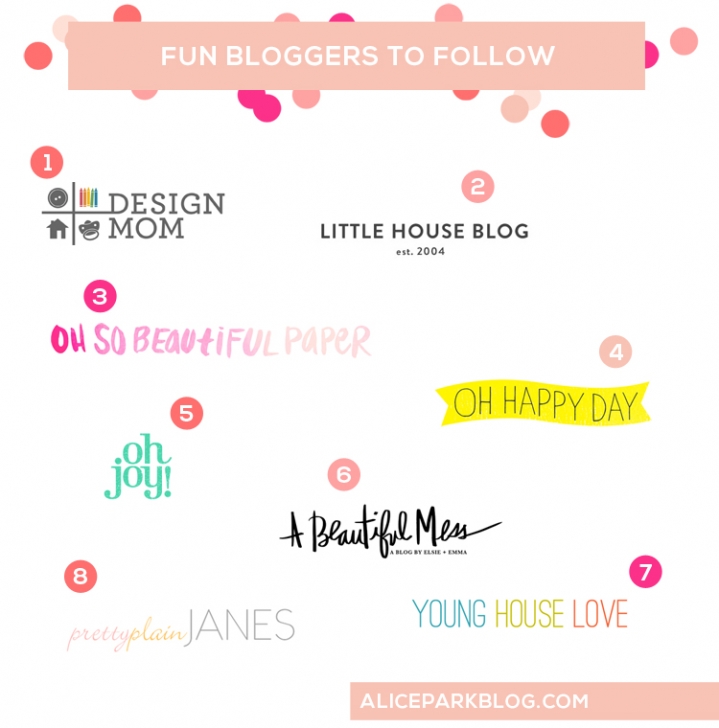 1) Design Mom
Gabrielle's blog has transformed quite a bit over the years too. She is a mother of 6, a designer, and also the founder of the infamous AltSummit that I have yet to attend! I love Gabrielle's clean and senseless aesthetics. The Home Tours are so much fun, and she gets moms and children more than most people I know. Pretty awesome.
The title caught me. Lindsay and her husband are self-proclaimed DIY-ers. Their house transformations are amazing… But what I love about Lindsay's blog is her style and love for bargain-hunting. Beautiful design can cost a fortune, and many times – it's well worth it. But you can find such great treasures if you know how to hunt, repurpose, and have a good eye. Be sure to check out some of their Ikea Hacks!
This is where my obsession with paper goods and stationary and gorgeous invites started. There, I said it.
4) Oh Happy Day
Such a fun & happy place that I love to get party-planning inspiration from. And I love the photography!
5) Oh Joy!
Joy is the everyday girl. The bright, fun, happy girl that is so easy to make friends with. Oh, but she's also a mom and an incredibly talented graphic designer! I have loved watching Joy's career completely take off over the years…. Even with rejection from jobs she worked so hard from, she stayed humble and resilient and kept on putting herself out there. Now, Joy has collaborations that designers can only *dream* of, she's authored 2 books, and she has a following that is unreal.
That's what I love about bloggers. I don't know them personally, but because they're so transparent through their online presence, I feel like I'm qualified to dictate their life story. It's funny that way.
Pretty self-explanatory. Lots of great content and written by two smart chics!
This blog follows the journey of a young couple re-doing & updating one room at a time in their house. They also mix in a little bit about their growing family, projects outside of the home, and easy transformations that others have shared. Everytime I visit, I'm inspired by a new project for Kyu and I to tackle! It's a love-hate relationship.
This is a new blog, written by 2 incredibly NOT plain Janes. One of the writers, Brandy J is a good friend of mine, and I've been a big fan of her style. I love this blog because it's the perfect mix of style, cooking, house projects, beauty and fashion. And when they post about their two daughters, you just want to melt…. Jettie and Lyon are about the same age, and well – that's a whole other blog post! I also love how emotionally connected you feel to these bloggers because of their writing. Little personal anecdotes on life that make you feel great inside as a mother, wife, friend, and diva. It's a great daily read and they've done a fabulous, fabulous job with it!
I have so many more favorites, but these are some of the few I follow daily. What bloggers do you love?